---
06

Aug 2014

We've all seen them. The sets and stages at larger churches with bigger budgets that make your mouth drop. You get super excited about creating something similar on your stage, only to find out that the design you're trying to recreate costs more than your entire annual production budget. It's easy to give up any hope of having an amazing stage design when you have a small budget. But, with the right materials and a little creativity, you can make a stellar stage design without breaking the bank.

In this post, we'll cover a number of low-cost materials to create stage designs with, but first, there are a few things you need to consider when building your set.
Stage Designs Are 75% Lighting
There's only so much that a stage design can do on its own. Lighting is what changes a plain stage into a dynamic environment, and it can really control mood of your room. Stage designs will come and go, but chances are, you'll be using whatever lights you have until they die. If you have the option, set aside a portion of your set budget to buy at least 1-2 new lighting fixtures. By the time you've gone through 4-5 stage designs, you will have built up a nice lighting rig.
Angles = Shadows = Depth
One of the easiest ways to give your stage a dynamic feel is to add depth.  Flat designs can easily become boring, but depth can make for some very cool shadows on your set, which will give you a wide array of options when designing your lighting cues each week.
Your Set Won't Always Have "Cool" Lighting
It's easy to make a set look good with lights that are constantly changing color and intensity, but your set needs to look good when the lights aren't in motion. Also, if your room is used for more than just weekend worship, you need to make sure your set looks good without being lit at all.
With those things in mind, let's look at some of my favorite building materials for constructing stage designs, along with some real-world examples for inspiration.
PVC Pipe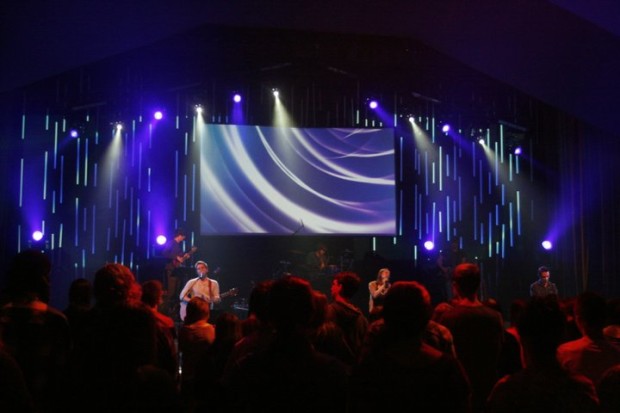 PVC pipe comes in a variety of lengths and diameters, and since it's commonplace in every household, it's quite cheap. At about $5 for a 10ft section, your money will go a long way towards creating some great designs using PVC. Pro tip: Use acetone to wipe away the manufacturer-printed information on the side of each piece of pipe.  Leaving the text on will just be a distraction.  (Example 1  •  Example 2  •  Example 3)
Coroplast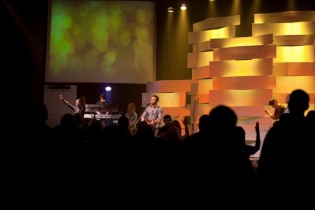 Possibly the strongest contender on the list due to its sheer flexibility (both literally and figuratively), this corrugated plastic is an excellent building block for any stage design. Coroplast can maintain its lightweight, yet sturdy, form in just about any shape, which means your options are virtually unlimited when building. In addition to opaque white, coroplast can also be found in translucent varieties, which will give you the option of lighting it from behind to create some stunning effects on your stage.  Again, keep in mind that lighting is what will really create great looks with a coroplast set, not the material itself.
The best place to find low-cost coroplast sheets is your local sign shop.  Any shop that prints yard signs & the like will most likely have 4'x8′ sheets of coroplast on hand.  Prices vary from place to place, but a 4'x8′ sheet will usually run around $12-$20. You can also pick up sheets at some home improvement stores such as Home Depot.  (Example 1  •  Example 2  •  Example 3  •  Example 4)
Window Screen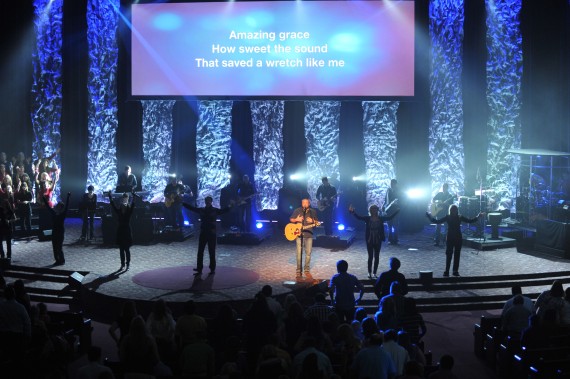 Like PVC, window screen is widely available at any home improvement store and it comes very cheap. Crinkling up window screen can create some serious shadows, which can add depth and texture to an otherwise boring set. Make sure to wear heavy duty gloves when working with this material though; the sharp edges of a roll of screen can shred your hands if you aren't careful.  (Example 1)
Wood Pallets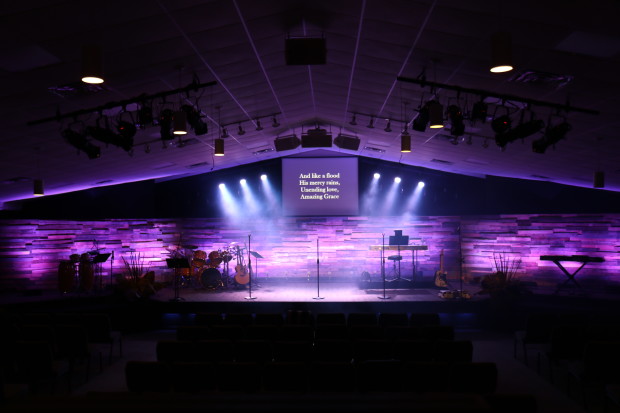 Wood is yet another solid choice for set building.  Lumber is already pretty cheap, but often times you can find pallets for free from local warehouses and storage facilities. Pallet wood is usually rustic and textured, which can make for some very organic set pieces. A word of advice: A freestanding pallet doesn't look that great as a set piece.  Strip the pallet wood apart and create something amazing: a textured wall, a drum riser, or a prop piece for your set, for example.
(Example 1  •  Example 2  •  Example 3  •  Example 4)
MIO Foldscapes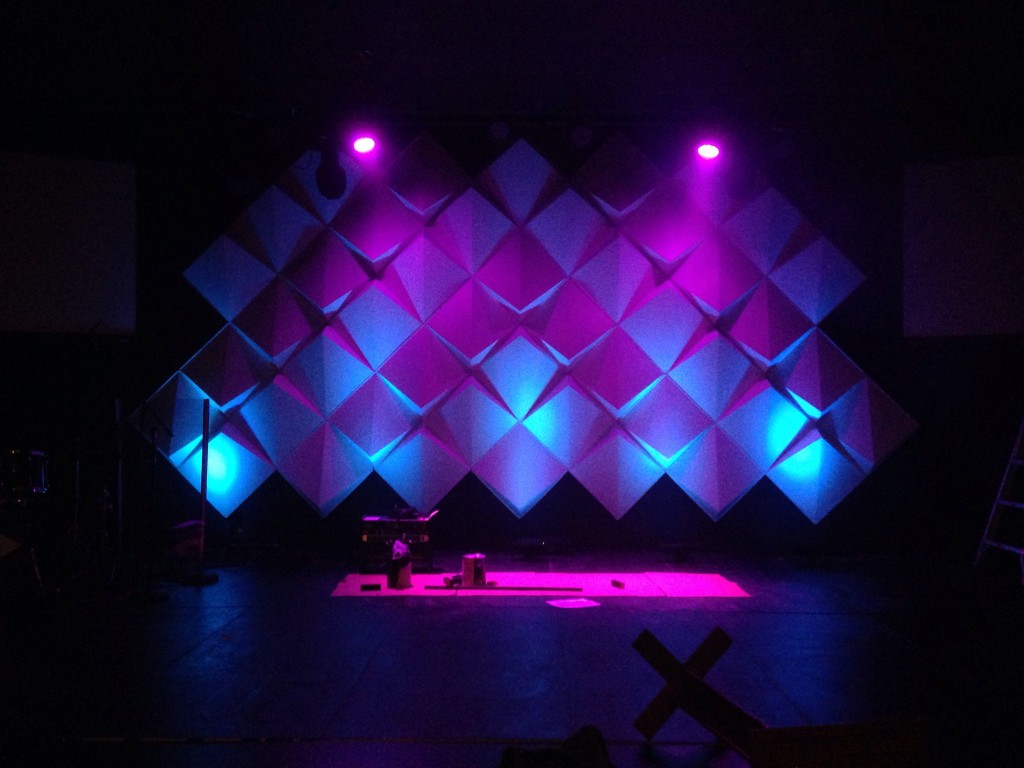 Mio is a company that creates environmentally-friendly architectural pieces for use in the office environment (ceiling tiles, room partitions, and the like). Luckily, their materials also can make for some killer sets! Prices vary from product to product, but their Foldscapes ceiling tiles, which make for some very cool lighting effects, are $98 for a box of 24 2'x2′ tiles.  (Example 1  •  Example 2)
Do you have any other low-cost set materials you love to build with? Post your suggestions in the comments below or send us a tweet to @CreativePastor!
Photos used with permission from ChurchStageDesignIdeas.com