Creative Ministry Toolbox is a new, weekly segment that highlights one of our favorite tools that we use in the creative department of our church. Have a resource worth sharing? Let us know in the comments below!
One of the most frequent questions that we get at TCP is also one of the easiest to answer.
What presentation software do you use?
PowerPoint all the way. If it was good enough for Jesus in the 90's, surely it's good enough for him today.
Of course, I'm kidding.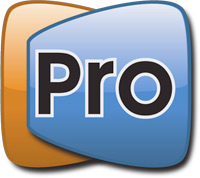 Church presentation software (CPS) has come so much further than PowerPoint would ever allow. And if there is one that outshines them all, it's ProPresenter.
I've had the privilege of working with every CPS available. Whether you're projecting song lyrics, displaying sermon points, or playing videos, ProP is going to do it better than any other piece of software. I've used it in small venues like youth groups, Sunday morning services of all sizes, and even large conferences of up to 20,000 attendees. It's worked great for me everywhere.
Here's three reasons why we'd recommend it for any church:
IT'S RELIABLE. You can be confident that ProPresenter is going to work as hard as you do to make Sunday morning great. In fact, it's one of the most dependable pieces of software that I've ever used.
IT'S POWERFUL. I put ProPresenter through the ringer on Sundays and it's fully capable of keeping up. It has seamless transitions, plays just about any format of media, and has the smoothest playback you'll find.
IT'S SIMPLE. While it performs like a professional product, it's very easy to use. I've trained volunteers to run a service in a matter of minutes and to create high-quality presentations in less than 30 minutes.
Check out all of the ProPresenter 5 features here.
Version 5, their latest release, is available on the Renewed Vision website for $399 for a single license or $799 for a site license. Keep in mind that you'll only need the site license if you plan on running ProP on multiple computers at the same time.
For example, you could legally install it on both your pastor's laptop and the church's presentation computer with the single license. But, if you wanted to use ProP in the main auditorium and your kid's ministry at the same time on Sundays, you'd need the site license.
TCP Tip: All of my ProPresenter enthusiasm is strictly directed towards the Mac-based software. If you've got an Apple Computer and ProP, you can take on the world. However, in my opinion, you will not get the same experience with the Windows-based version. For PC's, I'd recommend something like MediaShout, though this will nowhere compare to the performance of the ProPresenter/Mac combo.
What church presentation software do you use?