Today's post is from my friend, Brady Shearer. He is an extremely talented blogger, podcaster, and church media guru. I highly recommend following him on Twitter at @BradyShearer.
Video announcements for churches can be a toss-up. When they're done well, they're enjoyable to watch, informative, and brief. But when they're done poorly, video announcements can be painful to endure.
In the last year alone I've produced more than 1000 different editions of video announcements. I'm the founder of ProVideoAnnouncements.com and we create video announcements every single week for churches across North America.
We're continuously refining how we approach and produce video announcements. Instead of simply making minor tweaks, I like to find easy changes that produce maximum benefits. For instance, rather than obsess over motion graphics or perfect lighting, I've identified what I think are the three most important elements of quality video announcements. If your church can focus on these three core values, your video announcements will be excellent.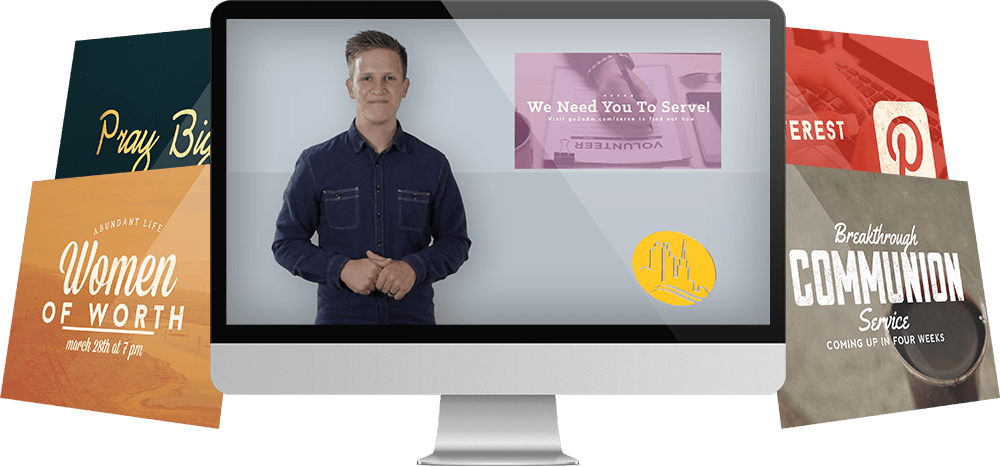 1. Tell a story. Don't tout information.
Observe the following two examples…
Announcement Example #1
"Men's Retreat is next week. The cost is $85 per guy. Make sure you get your money in to Pastor Dan before Friday at noon. We'll be meeting at the church at 5:00 PM and leaving from there. Don't miss it!"
Announcement Example #2
"Men's Retreat is next week. [Insert hilarious story from last year about the flag football game] Every detail you need is on the website. Don't miss it!"
Despite popular belief, the purpose of video announcements is not to share details, specifics, and extensive information. The purpose of video announcements is to inform your church of the most important things happening, and compel them to get involved. The two examples above are very similar. But in Example #1, every possible detail is crammed into the announcement. The problem with this approach is that people don't remember details!
Hoping your church remembers dates, times, phone numbers, or email addresses mentioned during video announcements is a losing approach. If you want men to attend your men's retreat, share a story that connects with them. They can always find the details later on your website.
2. The perfect length is…
Using stories is a smart approach, but it won't really matter if your video announcements are eight-minutes long. We've found that the perfect length for video announcements is three-minutes or less. Anywhere between two-minutes and three-minutes is the absolute sweet spot. This works out to approximately five announcements included each week.
Remember, the purpose of video announcements shouldn't be to share an exhaustive itinerary of church life. The purpose is to share what's most important, and compel your church to get involved.
3. Don't put that person on camera
Church on the Move in Tulsa, Oklahoma produces some of the best video announcements around. They're a church of more than 10,000 people, and can you guess how many video announcements presenters they have? Fewer than 5.
Presenting on camera is unlike any other type of presentation. I've seen the most dynamic pastors freeze in front of a camera as soon as it begins to record. Growing to be a quality on-camera presenter takes time – a considerable amount of time. Be conscious of whom you're putting on the screen.
Conclusion
Of course, I think outsourcing your video announcements is a great idea. When I was the Media Director on staff at my church, I spent more than 10 hours per week coordinating, scripting, producing, and editing our weekly video announcements. I can help with that.
The best question to continuously ask yourself is – what are we trying to accomplish with this announcement? Share stories, keep it brief, use a quality presenter, and your video announcements will be excellent.